SQL 2008 support, powerful new functionality, more accurate output all delivered with tremendous performance improvements?
Seeing is believing
ApexSQL's new line of 2008 versions is exponentially faster that anything we've released before. Customers will immediately notice the performance gains in most operations, some even more than the average benchmarks we've published as the quotes below provide testimonial to.

"I installed the upgrade and ran the software. I was able to document our database in about 30 minutes where before it took about 8 hours. So I experienced a much better speed improvement over the six times faster time you are advertising. The process was less resource intensive also. Good job."
James Rickaway
Omnicell, Inc.
"I'm impressed of the speed increase in creating database documentation with the new version. Congratulations, you have done a good job."
Gabriele Marchetti
MCSA, MCSE MCDBA, MCTS and MCITP Database Administrator
Associate Director
Projects and Reporting
Bank Julius Baer & Co. Ltd.
"I downloaded the Beta version of ApexSql Doc 2008 and I was really surprised of the performance. It's really much faster than the last version."
Michele Notari
IT Project Leader
Tupperware TEAM MBS
Performance Results – 2005 vs 2008 versions
The following is a collection of graphs demonstrating performance improvements in several of our new 2008 versions. Based on continued improvements in the technology of our underlying components, we expect further increases in performance over the coming months.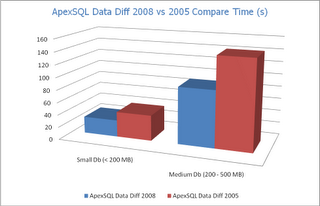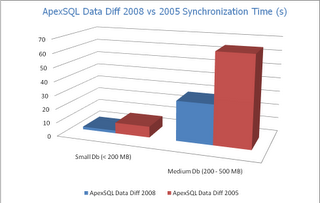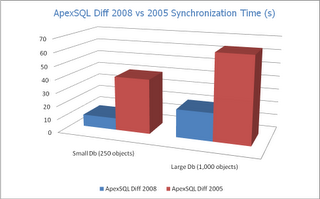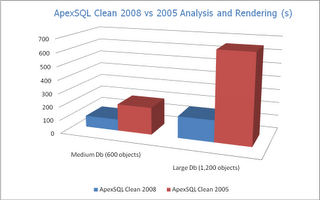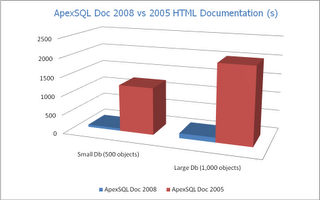 About ApexSQL
ApexSQL is a leading provider of SQL Server tools for database recovery, database auditing, database comparison, documentation as well as SQL Server Management Studio and Visual Studio add-ins for SQL code refactoring, code completion and database source control. We strive to ensure that every one of our tools is standard-defining product in its class, from feature set, to performance, interface and quality
February 21, 2009