There are numerous issues that can bring up to the data loss scenarios. The first thing every good DBA needs to do is to ensure that a post-disaster period has been handled with care. In order to ensure that the data can be recovered, or malicious changes reverted, it is strongly advisable to take the following steps immediately after an incident:
Detach a database
Create copies of the database MDF and LDF files
Move the MDF and LDF copies to another server, and attach them
Copy any existing database or transaction log backups to the other server
After the post-incident precautions have been handled, the most appropriate recovery scenario must be chosen, in order to ensure highest rate of recovery success.
This article is intended to help users choose the best recovery solution for their particular disaster recovery scenario. The tools which offer solution are ApexSQL Log and ApexSQL Recover.
ApexSQL Log is a transaction log reader which enables the user to audit data from the transaction log files, and reverts any unwanted changes back to their original state by creating an undo script with the opposite operations (e.g. if an operation has been deleted, ApexSQL Log will revert it by creating a script which INSERTs the data back).
ApexSQL Recover is another recovery tool for SQL Server databases which recovers deleted and truncated data. In addition, ApexSQL Recover can recover data and/or structure lost due to the DROP operations, deleted BLOBs, or extract the specific tables directly from the database backups.
Here is a flow chart intended to help any user to choose the most suitable tool for their respective recovery scenario: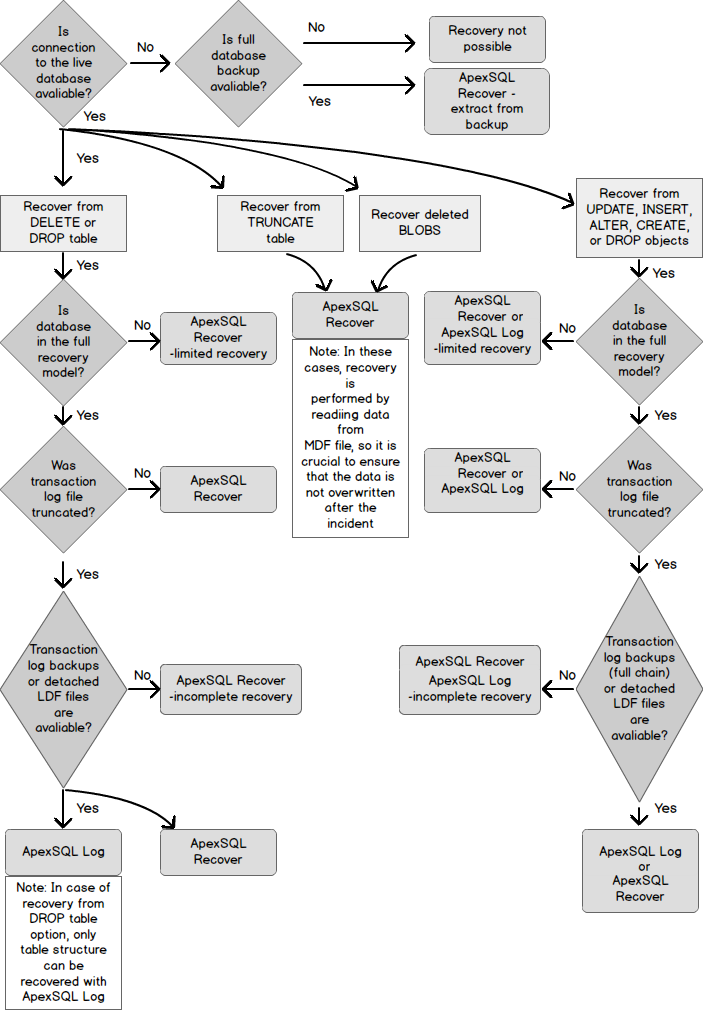 Additional details on the specific recovery scenarios which may result in partial recovery:
July 29, 2015