What have you been working on?

We have been working on integrating trigger based before/after reporting. By using integration with ApexSQL Trigger we managed to very quickly provide an option so very often requested by our users, to monitor before and after values of DML statement executions.
Users not yet familiar with our trigger based product, might want to check out our ApexSQL Trigger documentation that will quickly introduce them to the basics of project creation, architecture installation, object selection and trigger deployment which are basic steps needed to enable before after auditing for a single database.
What is the ETA to production?

ApexSQL Audit 2015 R3 is planned for release in the second half of July
What have been some design and technical challenges you have encountered, overcome?

The main design challenge was incorporating a different product model, project based, single server, single database WinForms based application into a modern multi-server, multi-threaded, distributed WPF application. With the help from our colleagues in the Software sales engineer team and from other teams we managed to come up with the design that satisfied the required conditions (speed and reuse of the existing code)
Basically, the before-after functionality can be accessed using the new ApexSQL Audit toolbar button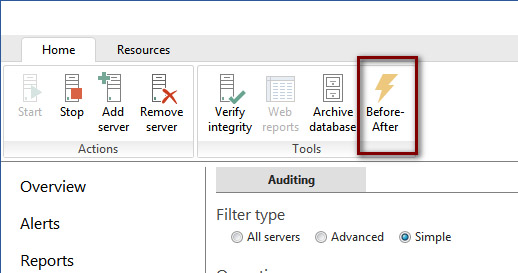 This will open a new child window with all the advanced trigger management features of ApexSQL Trigger. The basic purpose of this feature is to capture DML statement execution and record it into the local database on monitored server.
This before-after solution will enable users to easily and quickly create DML triggers for any SQL Server database, to deploy and manage them and to access collected data any time, by using intuitive and readable reports that can be exported to common formats like .docx and .csv
Basically users would get ApexSQL Trigger functionality for free when buying ApexSQL Audit
This will not, however, be integrated into ApexSQL auditing, reporting or alerting functionality at this time, but we are working on closer before-after integration, and this will roll out in successive releases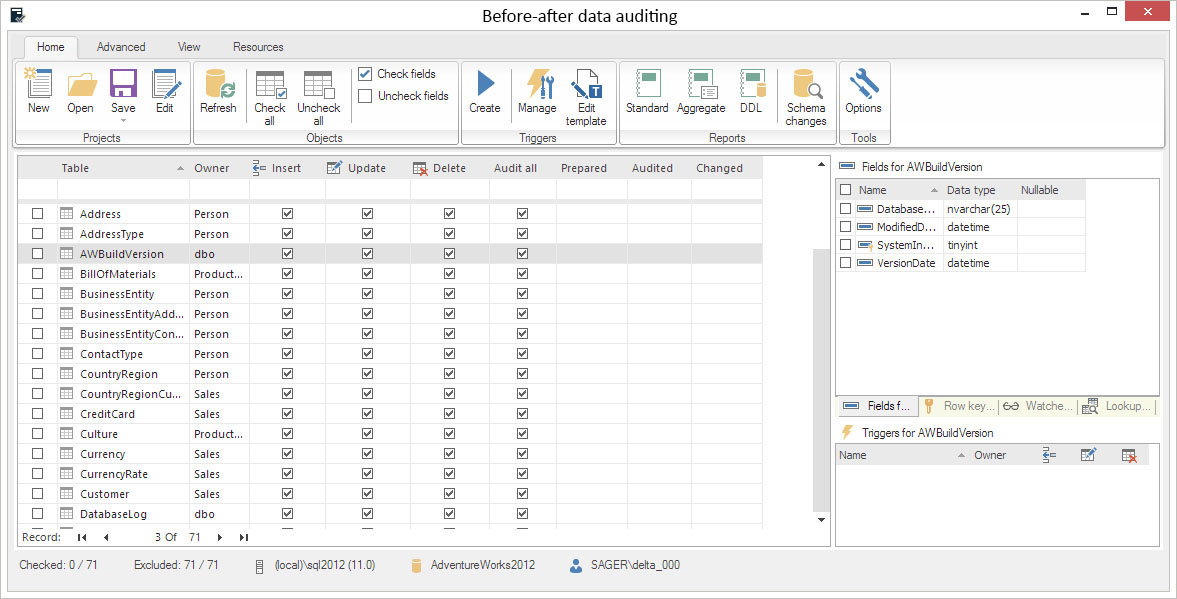 What are some features planned in the next release(s) and what are their ETAs?

Here are some features, improvements and bug fixes coming in ApexSQL Audit 2015 R3:
Before/after reports based on ApexSQL Trigger, our very own trigger management solution
More than 30 bug fixed like:

The start and stop instance CLI commands will not change the state of the equivalent commands and targeted instances in GUI
The Object filter in common reports filter using object and access objects column, while custom reports object filter filters only column
It is not possible to manually type value for the fields 'contains/doesn't contain' when creating custom report
A wildcard for the variables changed from $ to %
The Delete icon was not metro
After ApexSQL Audit 2015 R3, we plan to do a maintenance release (R4) which will focus on improving quality.
Big features planned in next releases are:
ApexSQL Audit R5 – ETA November 2015:
Multiple simultaneous data sources in reports – the application will automatically choose which repository archives to read from based on the selected time span
Advanced system status – showing detailed per instance information and information about the central instance which collects the events into the repository
CLI for exporting report – allowing scheduling the export process through external task scheduling applications
Improved archiving – choose to archive from specific time: last week, last month, last year or just by specific date. The current repository database will always contain the newest data and old data will be automatically moved to a repository archive
ApexSQL Audit R1 – ETA March 2016:
SQL Server 2016 support
Choose table columns (sensitive columns) – giving the ability to specify which columns are audited
Reporting support for column level filtering
Include/Exclude query text – when SQL statement text is not necessary it can be excluded, which will help to make repository smaller and reports generate faster
Configuration templates – allowing the same auditing filter to be applied to multiple audited servers, making the configuration process faster
Aggregate and graphical views on collected data per instance
Purge data from specific time range – old events will automatically be purged, freeing up disk space
Improved alerts – alerts related to sensitive columns, custom alert threshold to minimize the number of alert emails, date filter, making alerts more powerful
Health information – diagnostic window, allows detecting system wide issues and suggest possible solutions
ApexSQL Audit R2 – ETA June 2016:
Alerting support for column level filtering
Statistical reports
Improved filter operator support (starts with, ends with, is NULL, is not NULL)
Remove or backup database on uninstall
Option to ignore specific detected tampering
Notification editor (highlight and insert variables)
Support for integrating alerts with Windows event log, executing an external application or SQL script, control auditing and archiving
AlwaysOn Availability Groups support
July 13, 2015