We are excited to announce that ApexSQL Audit 2018 has just been published. In the latest version of ApexSQL Audit, we have added several features that will enhance our users experience and allow even better auditing and reporting by using the following:
Relative date filter
Run scheduled reports on demand
Auditing configuration and out-of-the-box reports for GDPR
Multiple client support
New interface, themes and icons, High DPI and 4K resolution support
Relative date filter
Previous ApexSQL Audit release 2017 R5 introduced the most commonly requested feature: the reporting scheduler. The report scheduler allows users to create schedules on which the user-configured reports will be automatically created and also automatically emailed to specific emails. ApexSQL Audit 2018 now allows users to use relative date filters when configuring report date/time scope. Instead of using static filters and scope range (from/to), users can now utilize relative filters such is "last X minutes, hours, days" etc. This makes automation process much easier and users will be able to preschedule recurring reports which was not possible without this feature.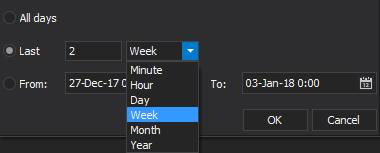 Run scheduled reports on demand
Another reporting-related feature is introduced in ApexSQL Audit 2018 and that is an option to immediately run scheduled reports. Instead of waiting for the next scheduled report to trigger, users can now simply choose to immediately run existing schedule to trigger the report creation (and additionally send it via email if configured so) on demand without affecting the existing schedule in any way.

Auditing configuration and out-of-the-box reports for GDPR
As the deadline for GDPR draws ever closer (May 25, 2018), requirement to achieve compliance with this global standard is imperative. While ApexSQL Audit can help users to achieve compliance with GDPR, as we've written before in General Data Protection Regulation (GDPR) compliance for SQL Server article, ApexSQL Audit users can now easily and with minimal effort configure the tool to audit all SQL Server operations imposed specifically by GDPR.
By utilizing new auditing configuration templates on both server and database levels, ApexSQL Audit can ensure that appropriate SQL Server events are audited for the purpose of compliance with the standard. Furthermore, the tool now includes an out-of-the-box report for GDPR compliance which can be quickly previewed, edited and generated to provide auditors with complete reports required when GDPR compliance checks are performed.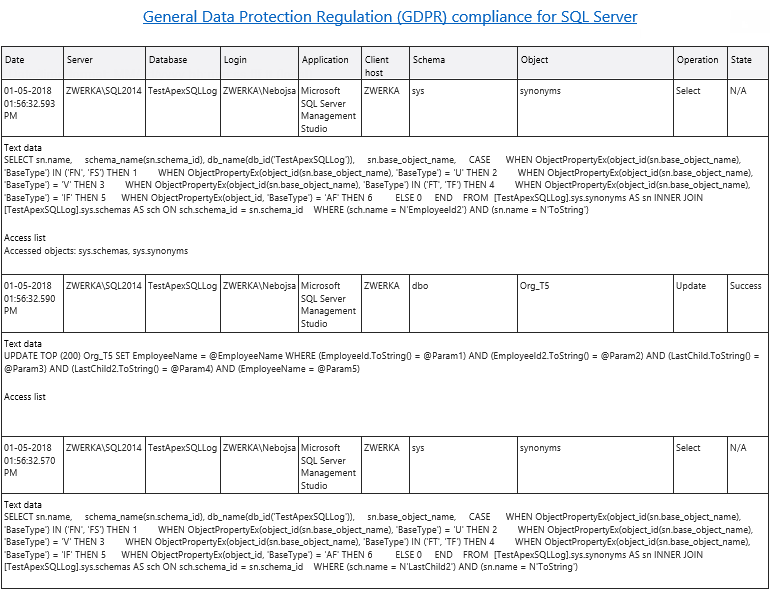 Multiple client support
Another feature that was frequently requested by some of our users is the ability to run the ApexSQL Audit main GUI on multiple workstations. Having multiple clients allows different users to configure auditing and alerts, generate reports and perform maintenance tasks on central repository database. When multiple users work with the GUI at the same time, our safety mechanisms will ensure that these users do not overwrite each other's configuration and first come – first serve rule will be followed to ensure proper priorities are used when applying changes to auditing, reporting or alerting.
New interface, themes and icons, High DPI and 4K resolution support
With 2018 versions, all ApexSQL products come with newly overhauled interfaces including new themes and icons matching SQL Server Management Studio 17 and latest Visual Studio style. Users can now choose between dark, colorful and light themes.
Dark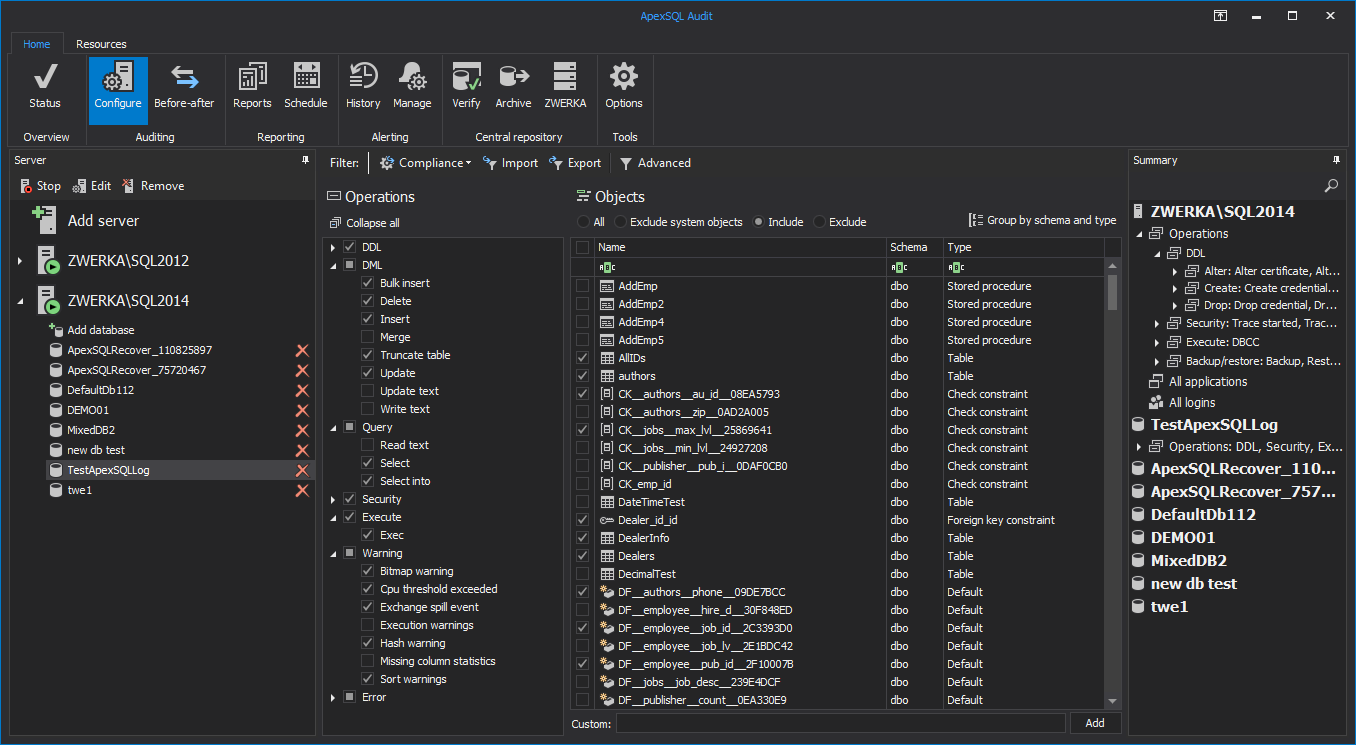 Colorful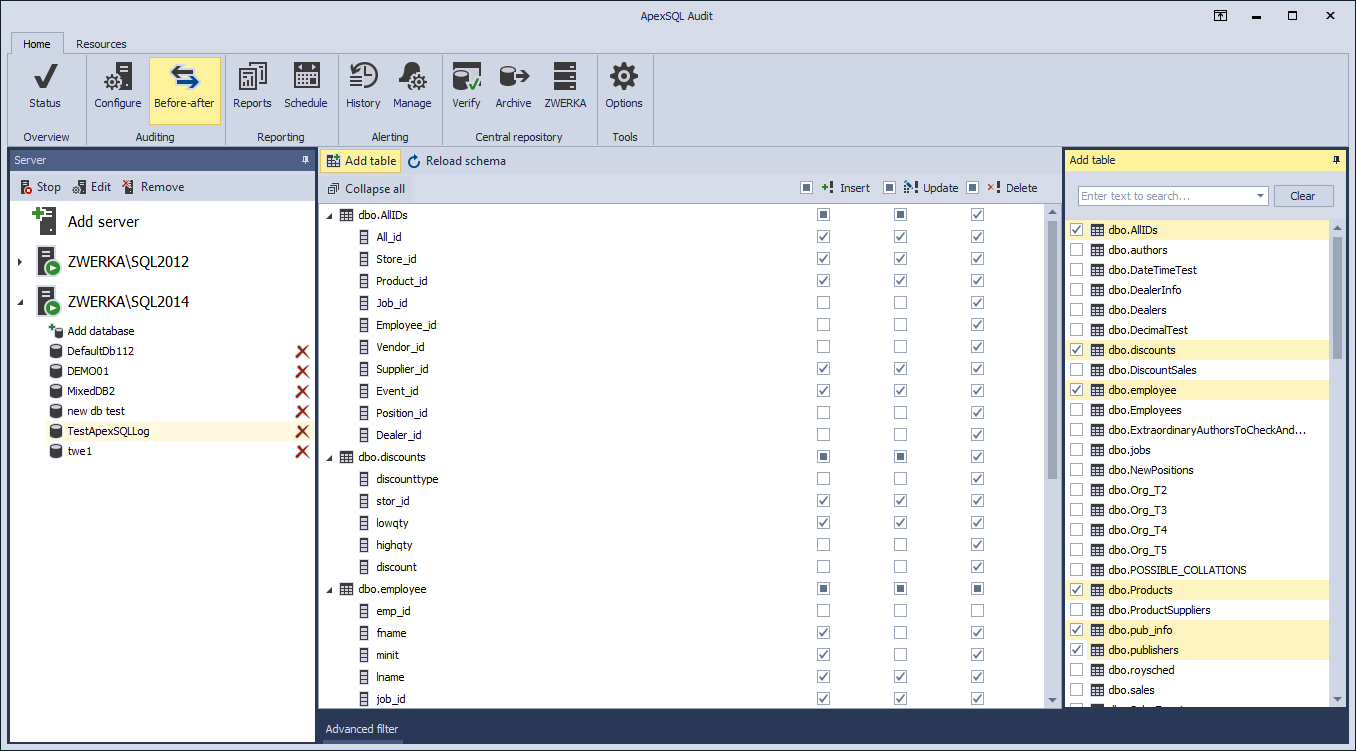 Light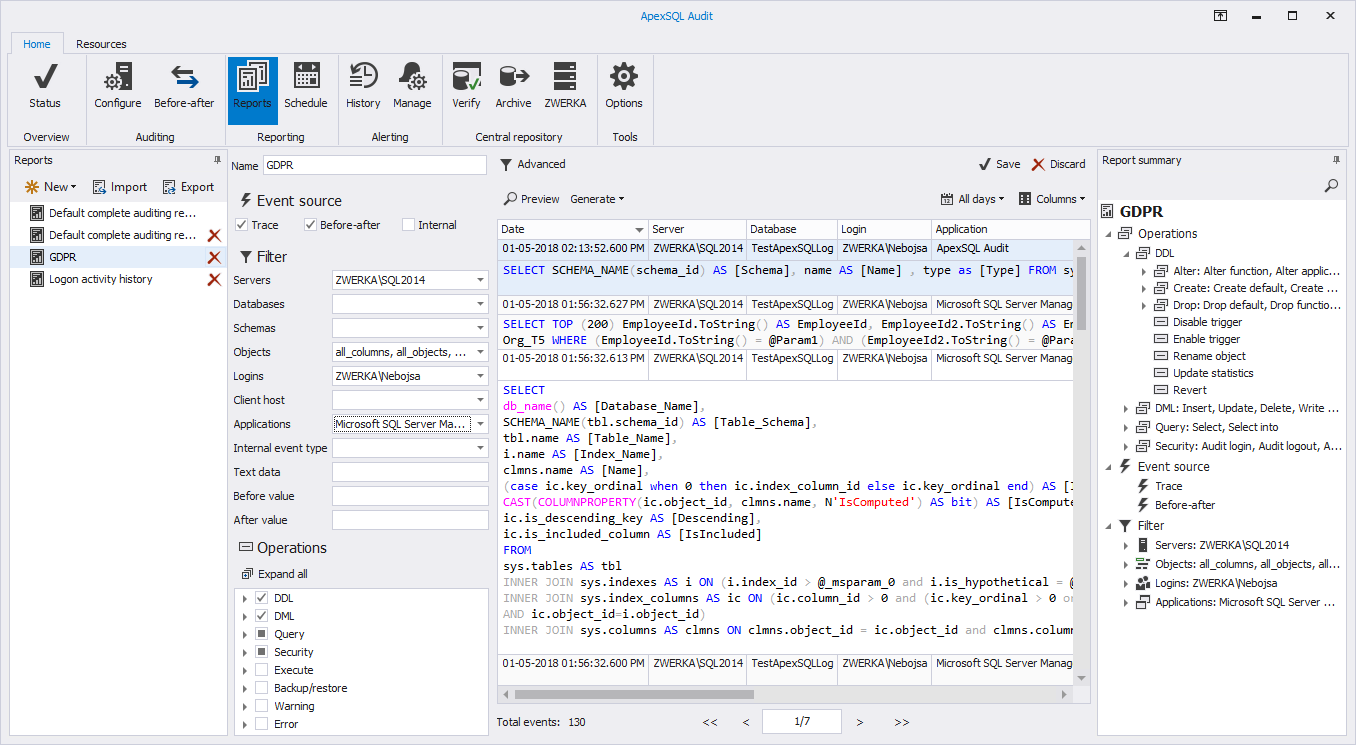 Additionally, with High DPI and 4k monitors becoming more common and widely spread, we've ensured that all 2018 versions of ApexSQL products include full support and proper scaling on high DPI and resolution monitors. To check more details on new UI and high DPI and resolution support, check the New 2018 versions: New interface, themes and icons, High DPI and 4K resolution support article.
20 bugs and known issues solved
In addition to the new features and improvements included in the ApexSQL Audit 2018 version, 20 bugs and known issues reported by the users and our QA team have been resolved and fixed. For detailed list of enhancements, changes and fixes introduced with ApexSQL Audit 2018 check out the latest release notes
January 8, 2018