We are excited to announce that ApexSQL Recover 2018 has just been published. In the latest version, we have added several recovery features which will greatly enhance ApexSQL Recover recovery capabilities. The main drive behind introducing these features is the idea that our users should have a solid single tool for recovery for different scenario, eliminating the need to rely on both ApexSQL Recover and ApexSQL Log for different recovery scenarios. With 2018 release, ApexSQL Recover has been upgraded with features which provide recovery mechanisms for additional recovery scenarios, such is changes roll back/forward, forensic analysis and recovery and more. Here are quick descriptions of the newly introduced features:
Transaction log files and backups can now be read, analyzed and audited
One of the most commonly requested features was the ability to perform full investigation and analysis directly through ApexSQL Recover before committing to the actual recovery. From the version ApexSQL Recover 2018, users can now read their transaction log files (online as well as detached) as well as transaction log backups and audit them to a comprehensive grid where the operations can be inspected and analyzed. This allows users to find out who made these changes and when, as well as how the changes affected the database, if some table values or structures were changed and more.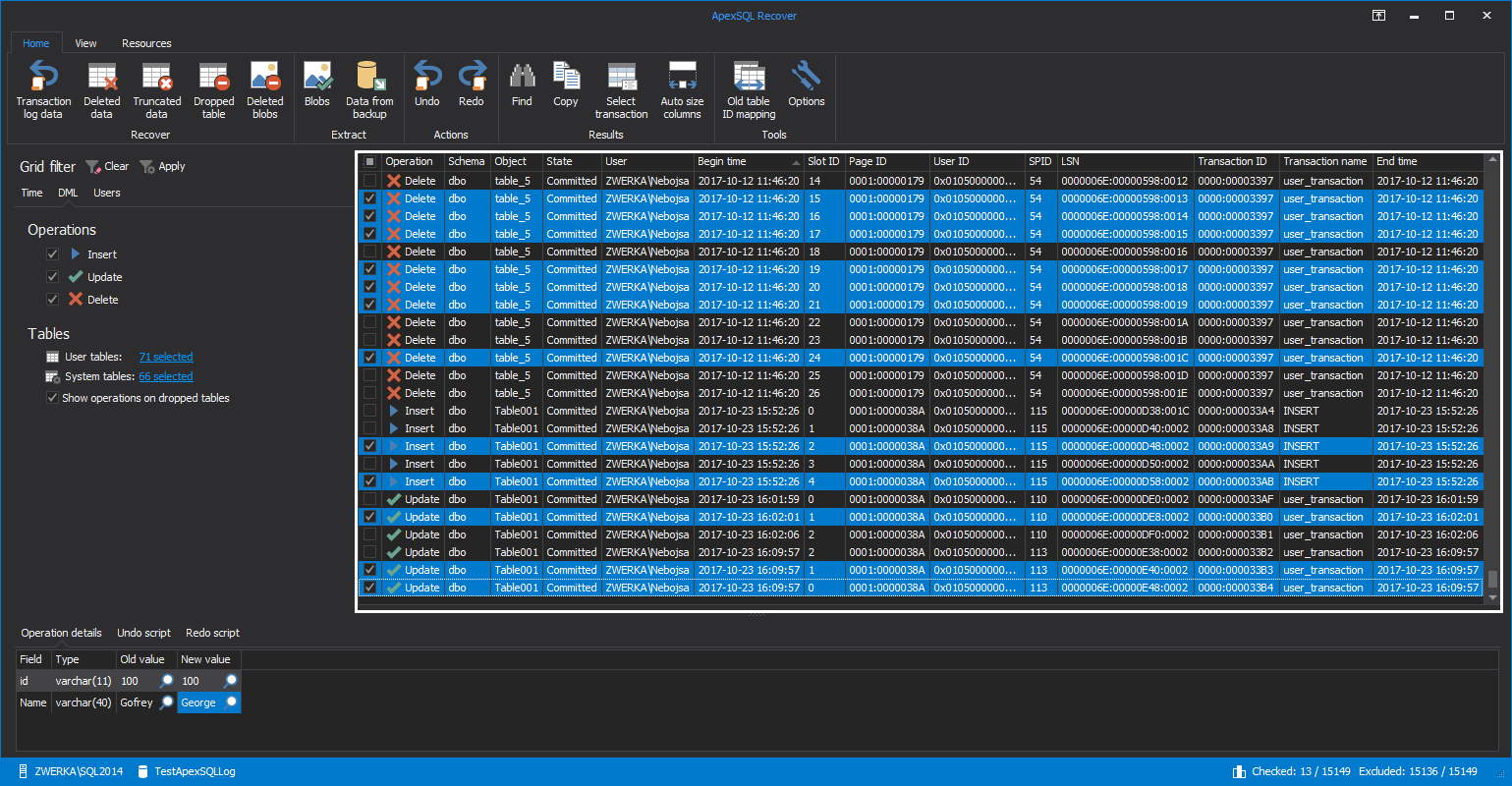 Undo and redo script can now be created to rollback or replay DML and DDL changes
Another big addition that came with ApexSQL Recover 2018 is enhanced recovery mechanisms which now allow users to roll back or forward DML and DDL changes. While some of our users are already familiar with this feature which already exists in ApexSQL Log, we have decided to add the feature to ApexSQL Recover in order to achieve the single recovery tool ideal and ensure that our customers can have all recovery cases covered by owning a license for only a single tool – ApexSQL Recover. This feature allows users to create SQL scripts to roll changes back which will bring table structure or data back to its original state – as if the changes never happened. Additionally, users can opt to create replay scripts which allow them to repeat specific changes or sets of operations and apply them to different databases and more.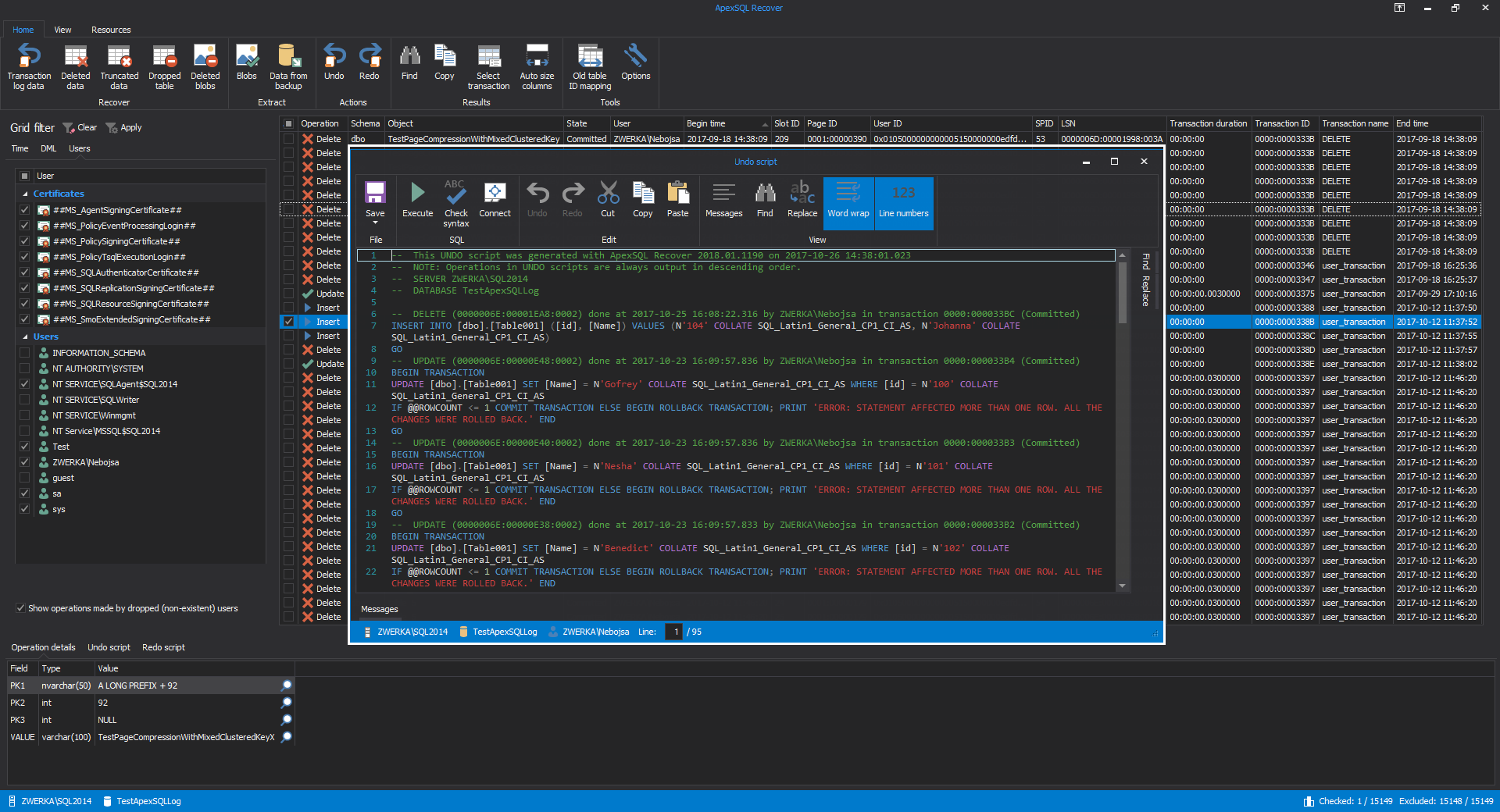 Auditing results can now be loaded and filtered in grid for forensic recovery and analysis
As mentioned previously, ApexSQL Recover 2018 allows users to load transaction log information into a comprehensive grid and see the information operations executed over their databases. While this allows them to see various information on executed operation, we've also added powerful grid filters. These filters will allow in-debt analysis of transaction logs and will enable users to quickly and with minimal effort isolate specific operations for disaster recovery and minimize recovery scripts to only those specific operations.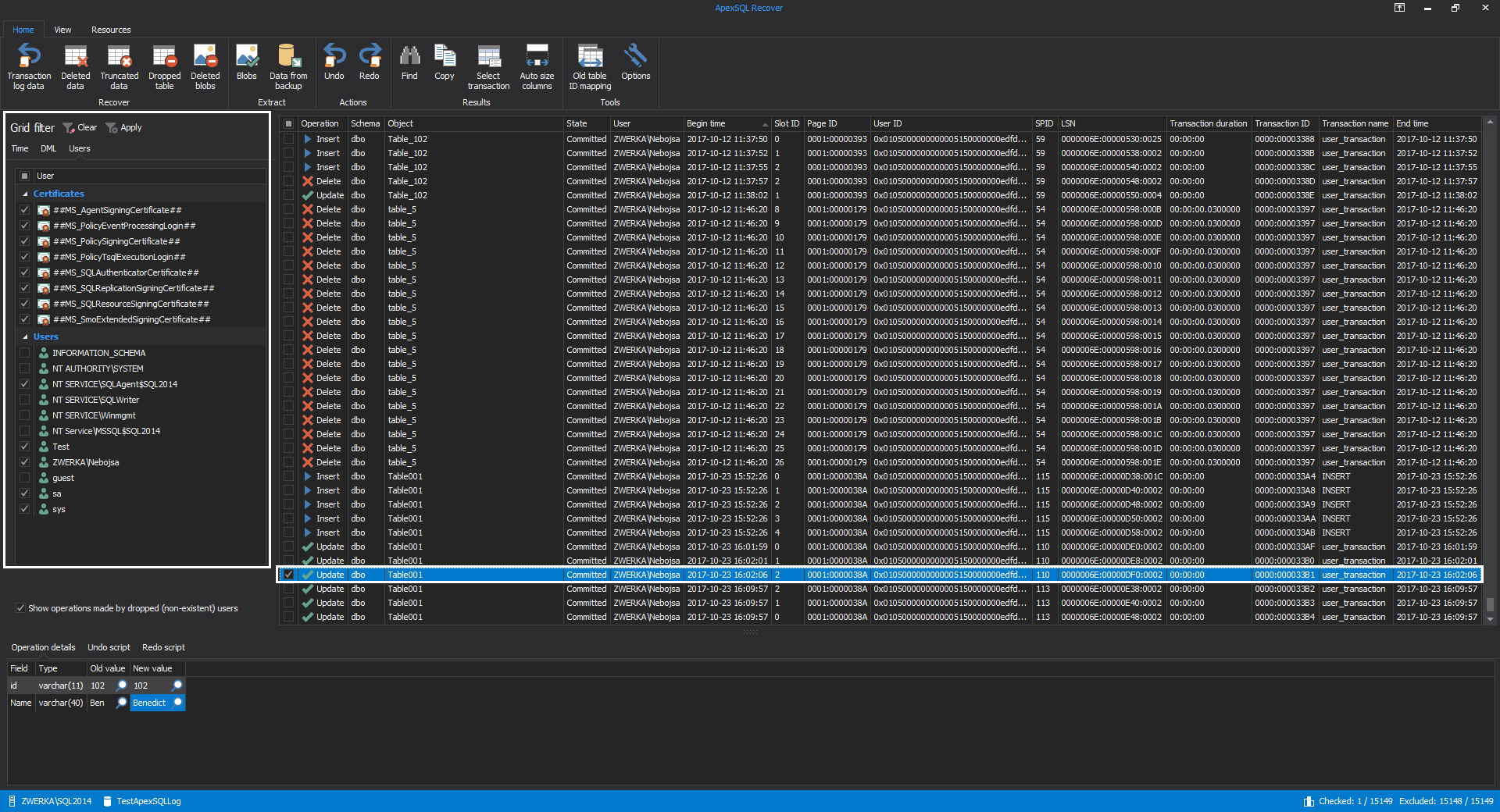 SQL Server 2017 support for Windows instances
Last, but not least, ApexSQL Recover 2018 brings complete and full support for SQL Server 2017 which was recently just made publicly available by Microsoft. All ApexSQL Recover features work flawlessly with databases created and hosted by SQL Server 2017 as well as those with appropriate SQL Server 2017 compatibility settings.
October 26, 2017