ApexSQL Compare is free SQL Server Management Studio and Visual Studio add-in and once installed the main menu will be shown in the navigation bar of integrated hosts: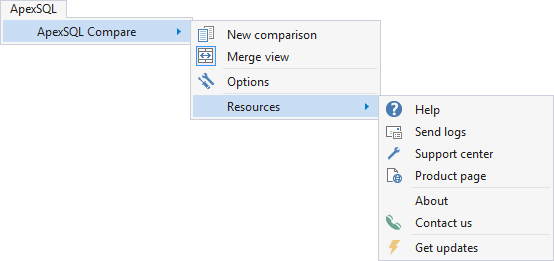 From ApexSQL Compare's main menu, the new comparison can be initiated with a click on the New comparison command. Once opened, desired SQL scripts can be loaded with a click on the Browse button on the left and right side:

Also, ApexSQL Compare can compare SQL Server objects. Right-click a desired object in Object Explorer -> Compare scripts -> Set as left/right: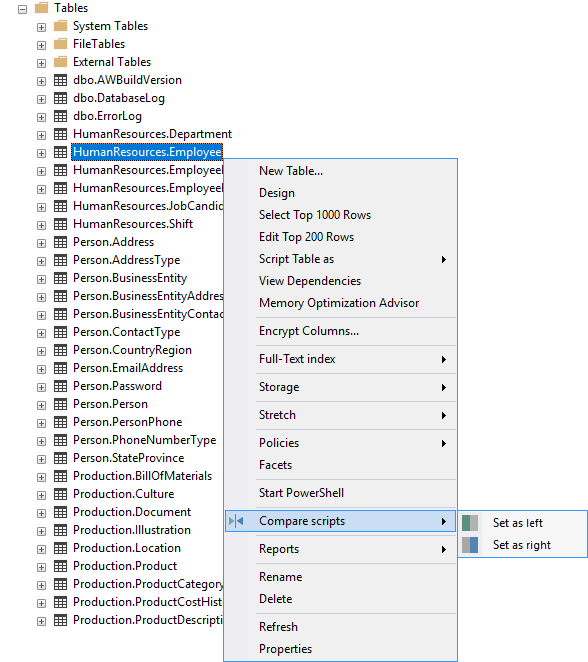 By default, the Merge view panel is shown below compared SQL files/objects and allows to merge checked differences from the left and/or right side.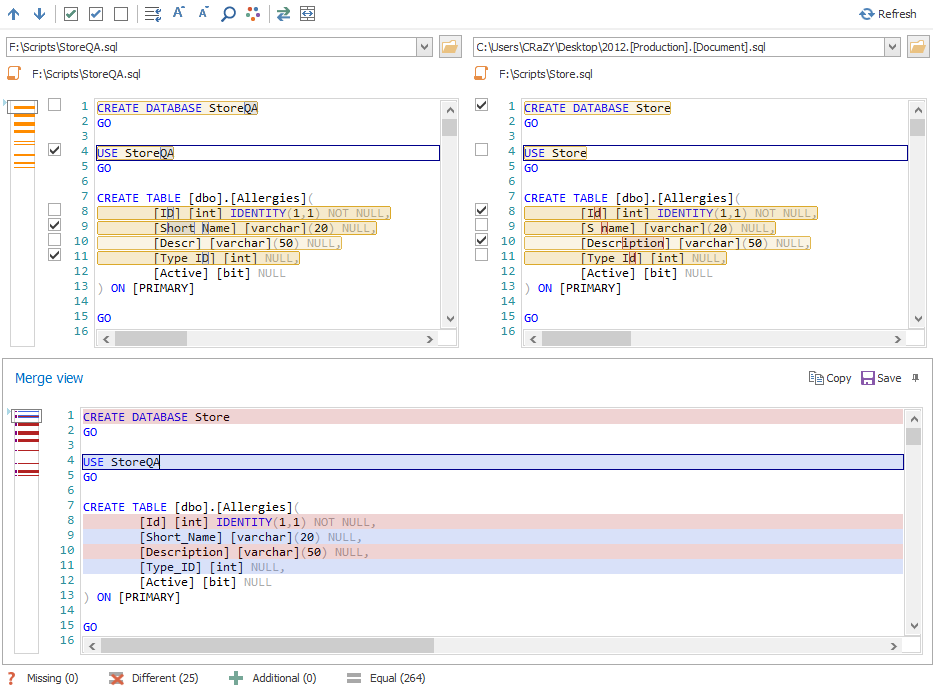 The resulting merge script can be created by:
Using only differences from the left side

Using only differences from the right side

Using differences from the left and right side

Using combination of the differences from the left and right side
Below the Merge view panel, the Status bar provides information about the number of Missing/Different/Additional/Equal rows:

Different rows of compared SQL scripts/objects are highlighted and additionally differences on a character level are highlighted with a different color, so that are easily found:

On the top of the comparison window there are a few buttons that can come in handy:

  Up/Down arrow buttons can be used to go to the previous/next difference

  Green check mark button will check all left differences

  Blue check mark button will check all right differences

  Empty check box button will uncheck all left and right differences allowing to check individual left/right differences

  Word wrap button will wrap script to fit the comparison window

  Increase/Decrease font size button increases/decreases font size of the compared SQL files/objects

  Find button opens the Find panel below the Merge view panel:

  Difference highlighting button opens its window and allows quick customization of colors for difference highlighting:

  Reverse button reverses left and right compared SQL script/object

  Merge view button can show/hide the Merge view panel

  Refresh option can refresh compared SQL scripts/objects, so if any changes are made on the original files/objects it will be instantly shown
In the top-right corner of the Merge view panel, the Copy/Save buttons are located and they can be used to copy/save the resulting merge script:

In addition, ApexSQL Compare has various options that can be set to facilitate the comparison. All options can be accessed from the ApexSQL main menu -> ApexSQL Compare -> Options. Once opened, the General tab will be shown in which several options can be set:
Set the maximum number of items shown in the recent files list:

Default output folder for saving the merge script

Turn the Word wrap option on or off

Set default encoding for the merge script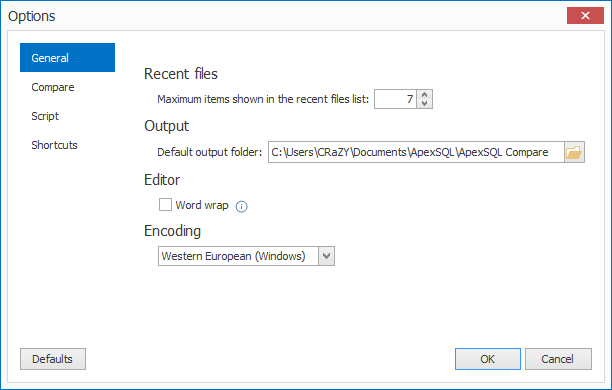 In the Compare tab, choose between two comparison modes: Line-by-line or block-by-block. Also, coloring of the Difference highlighting can be customized: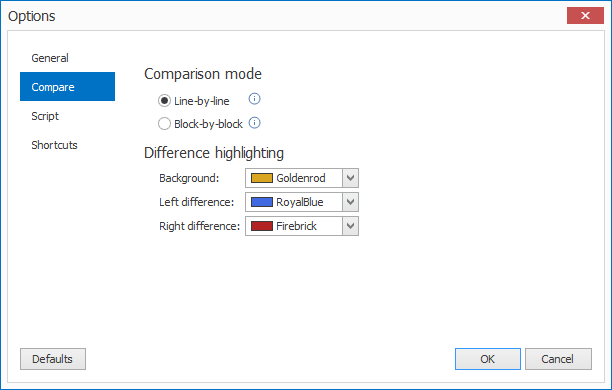 In the Script tab, different Ignore options can be set, so that specific parts of the script won't be included in the comparison: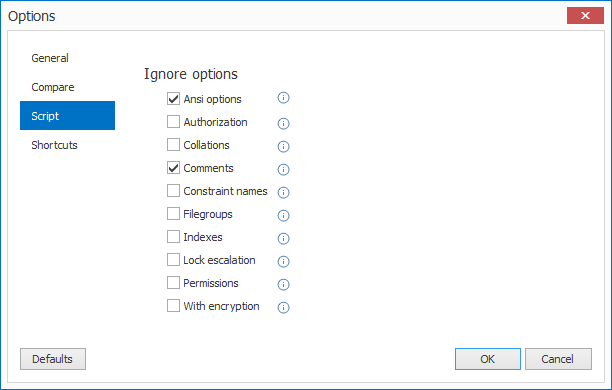 In the last tab, the Shortcuts tab, shortcuts for several options can be customized: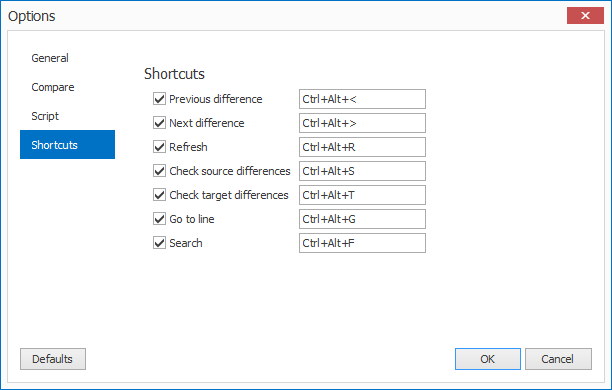 May 17, 2017