We are excited to announce that we have released another member of the ApexSQL Developer family – ApexSQL Model a new database modeling tool.
ApexSQL Model is used for creating database model diagrams and synchronizing changes to and from existing databases.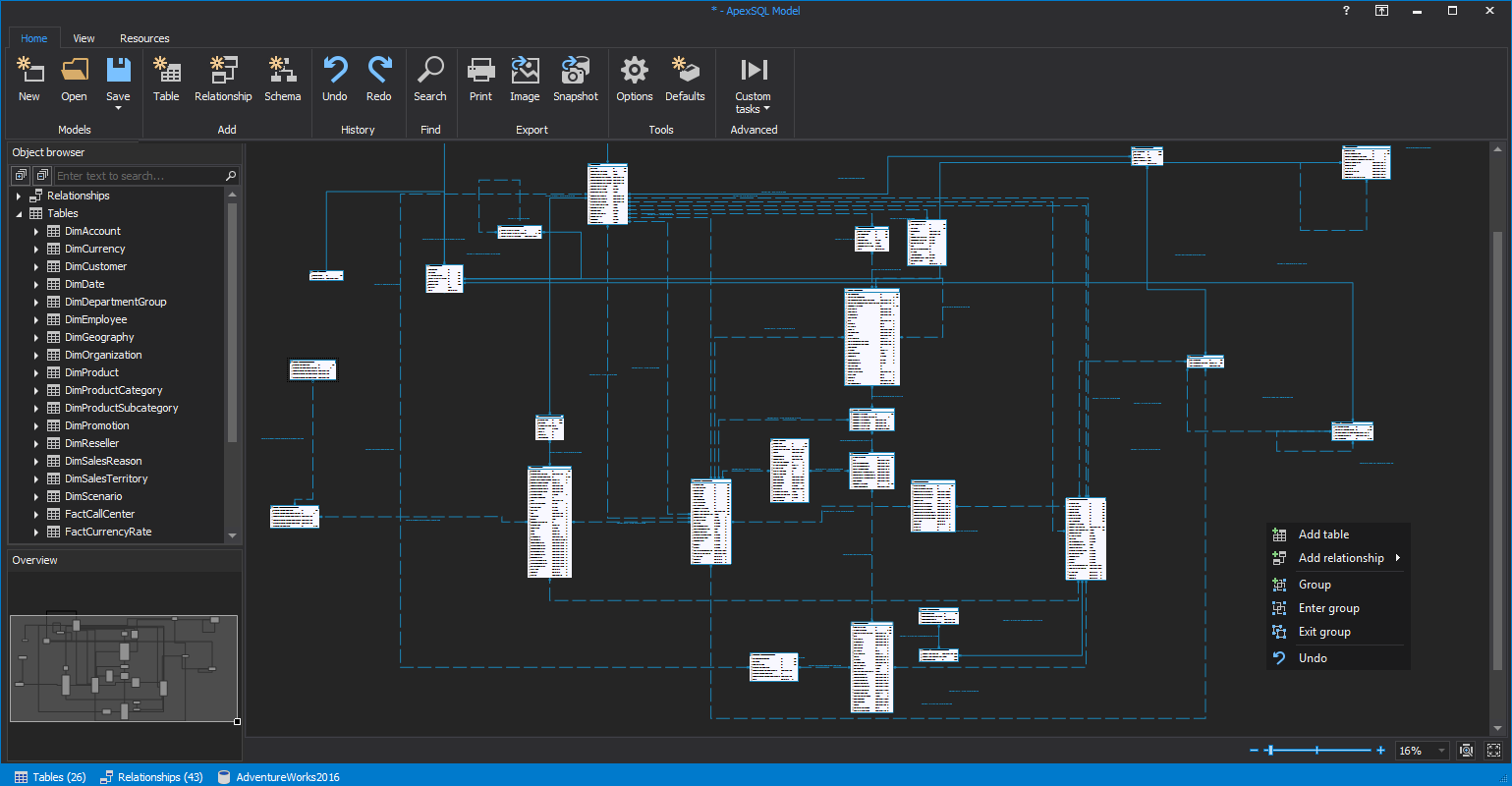 Database modeling
The ApexSQL Model user interface offers a clean look and a set of action buttons for data modelling and object manipulation. Data model diagrams can be easily created from scratch by adding and designing the structure of tables and then connecting them by adding relationship connectors and defining relationships.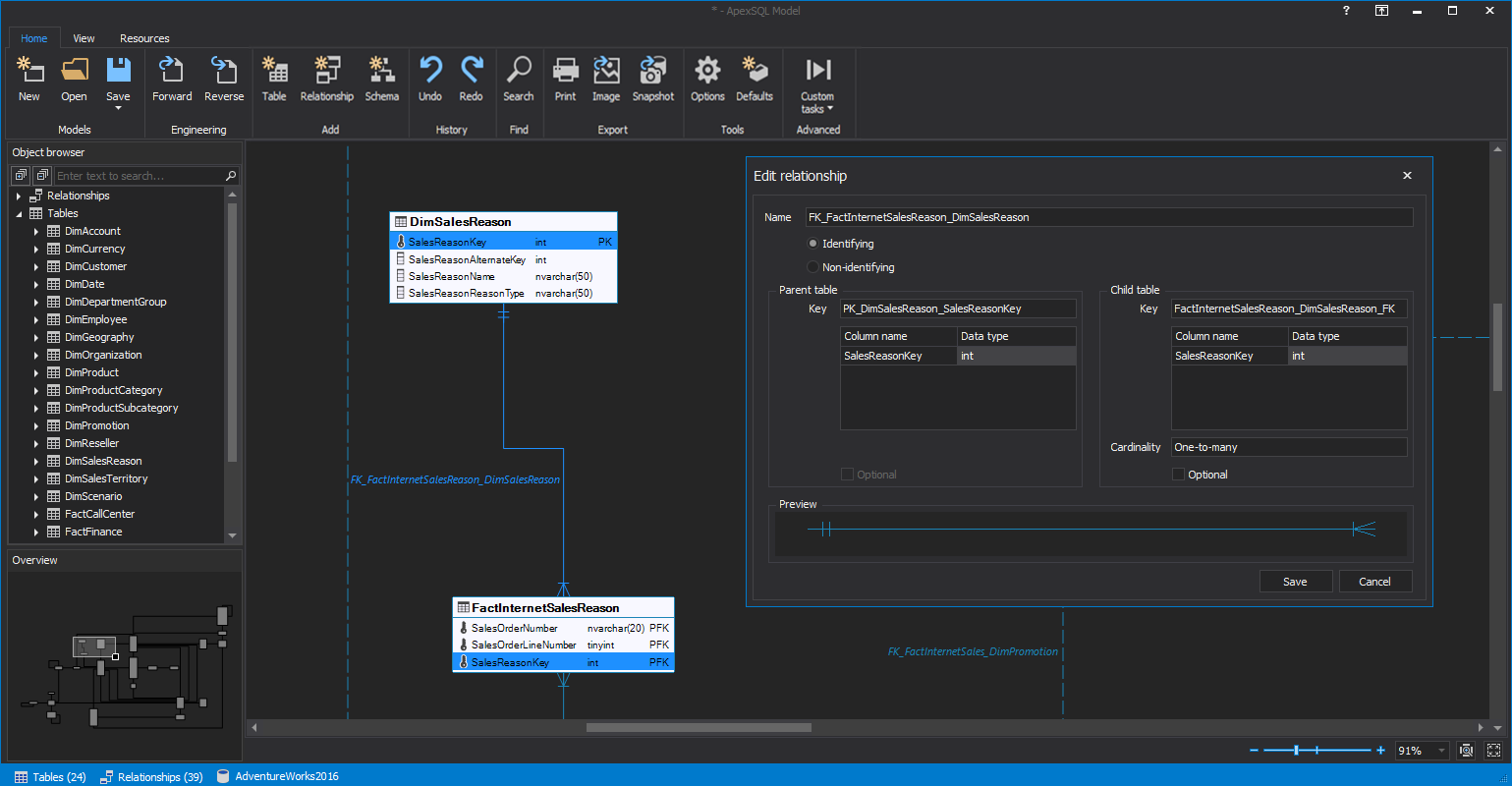 Forward engineering
The forward engineering feature is used to update an existing database from the model itself by leveraging the comparison and synchronization capabilities of ApexSQL Diff.
In order to use this feature ApexSQL Diff Professional version needs to be installed on the same machine as ApexSQL Model.
To forward engineer a database, click the Forward button from the main ribbon bar. Once clicked, the Forward engineer window will appear where the target database needs to be selected. The target database can be an existing database or a new one. Either way the server connection parameters and a database name need to be entered/selected in order to proceed.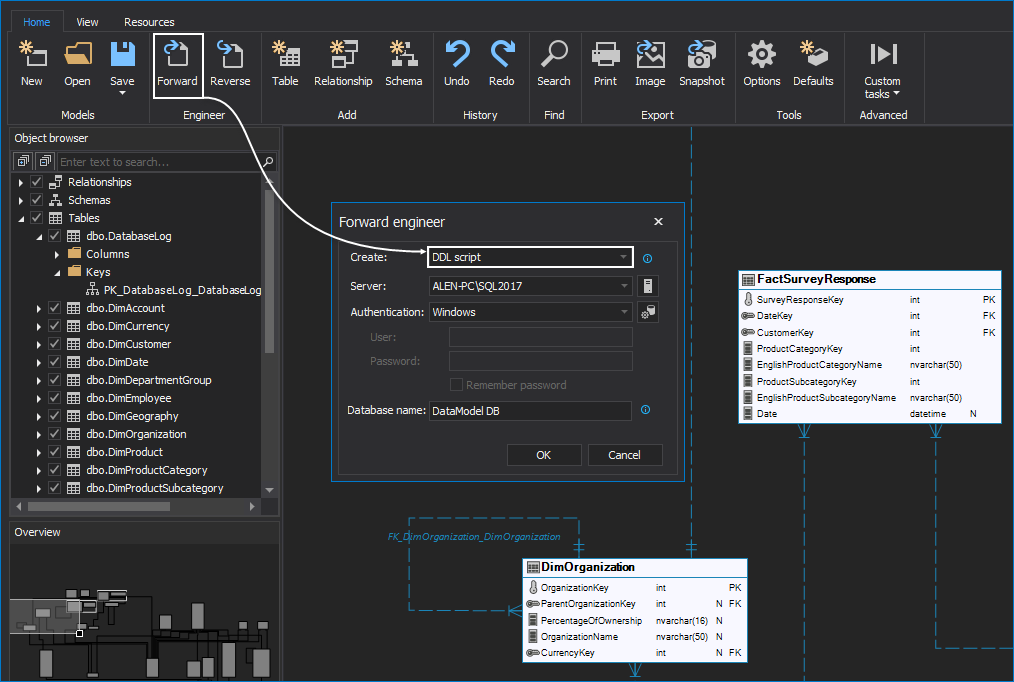 Once the forward engineering details have been entered and the Proceed button is clicked, ApexSQL Diff will be opened with pre-configured settings for synchronizing to the newly created database
Reverse engineering
The reverse engineering feature creates a new model from an existing database by reconstructing the logical data model from a physical data model. To reverse engineer a database, click the Reverse button form the main ribbon bar, then select the database for reverse engineering and click OK.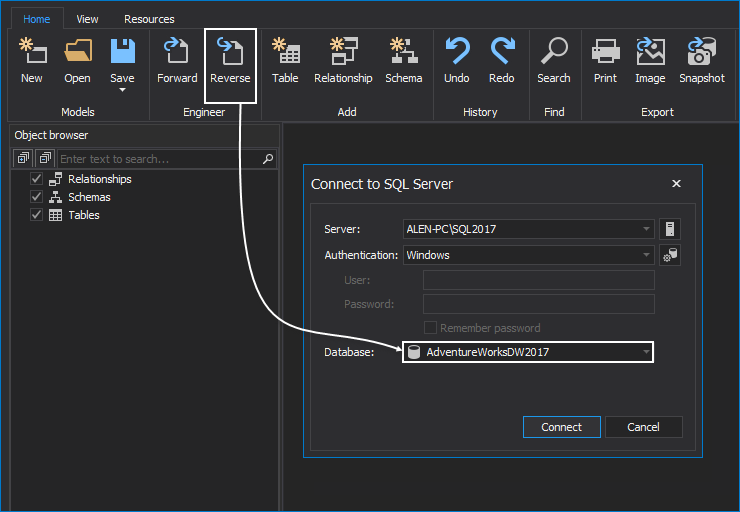 Once the database is selected, the data model diagram of the database will be created, which can be used for further work, like database modeling or forward engineering.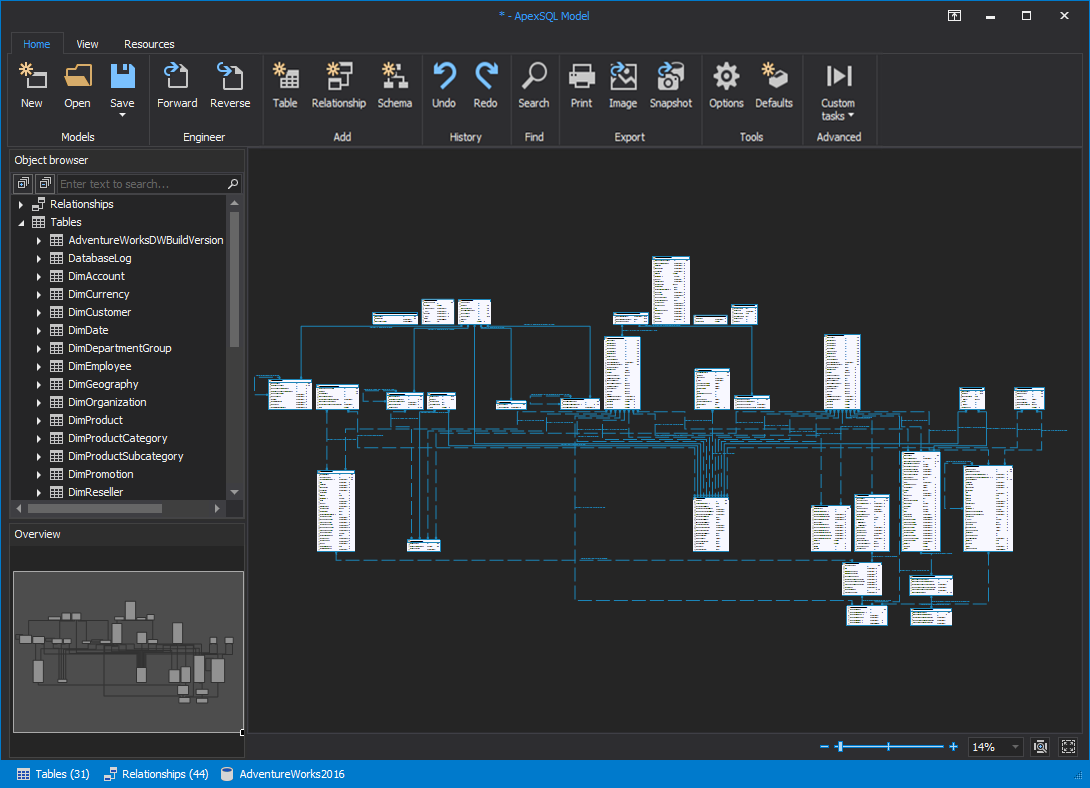 Data model diagram customization
Data model diagrams can be customized by changing the appearance of database models by using predefined layouts:
Orthogonal
Compact orthogonal
Directed orthogonal
Circular
Hierarchical
Tree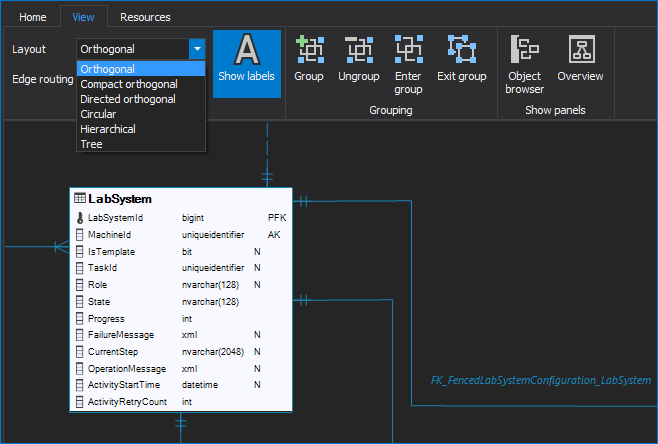 Or using the Edge routing option to customize the look of relationship connector line edges into:
Orthogonal
Polyline
Channel
Organic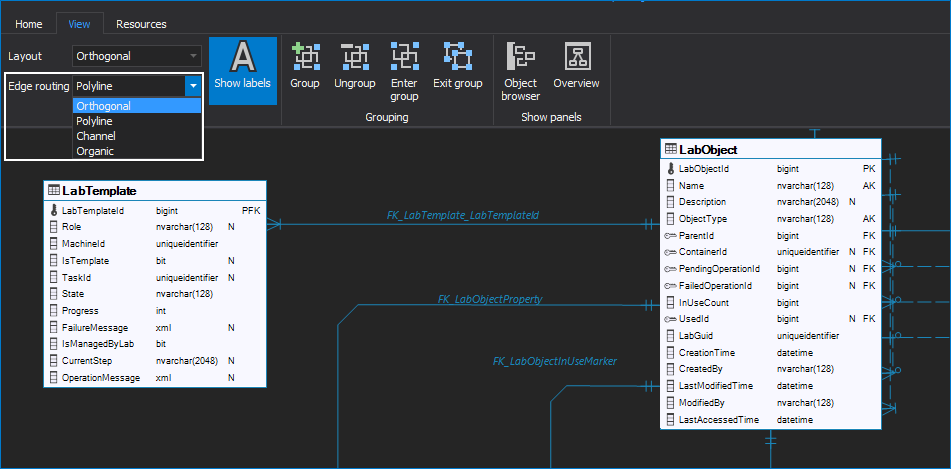 Table and relationship customization
ApexSQL Model can be used to edit database tables and relationships that connect them. To edit a table, simply double click it and the Table and the Design table window will appear, displaying all table columns. In this window and you can add, delete or edit existing columns.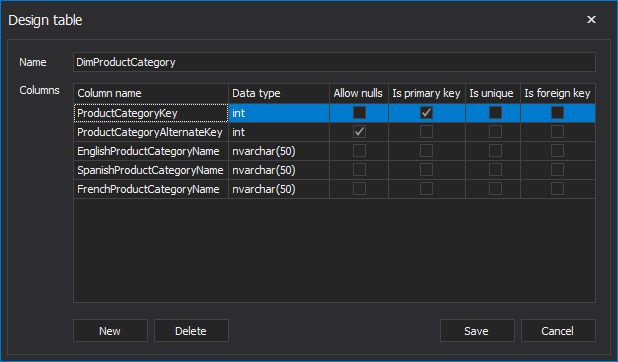 To edit a relationship, double click one and the Design relationship window will appear showing all relationship details.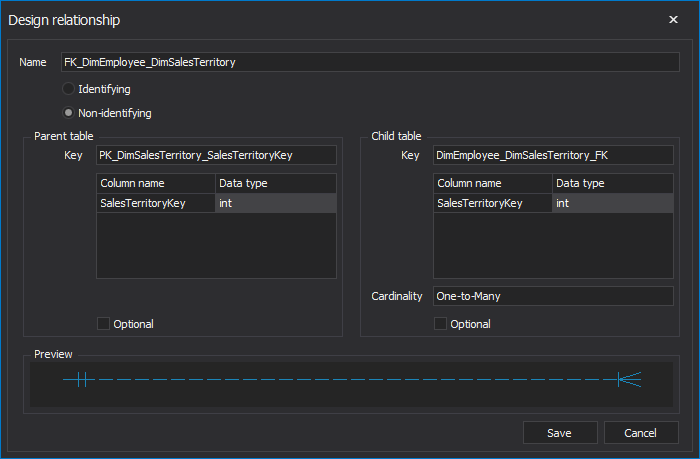 Object grouping
Another feature in ApexSQL Model is Object grouping which is useful for creating new or modifying existing object groups. These options are available in the View tab.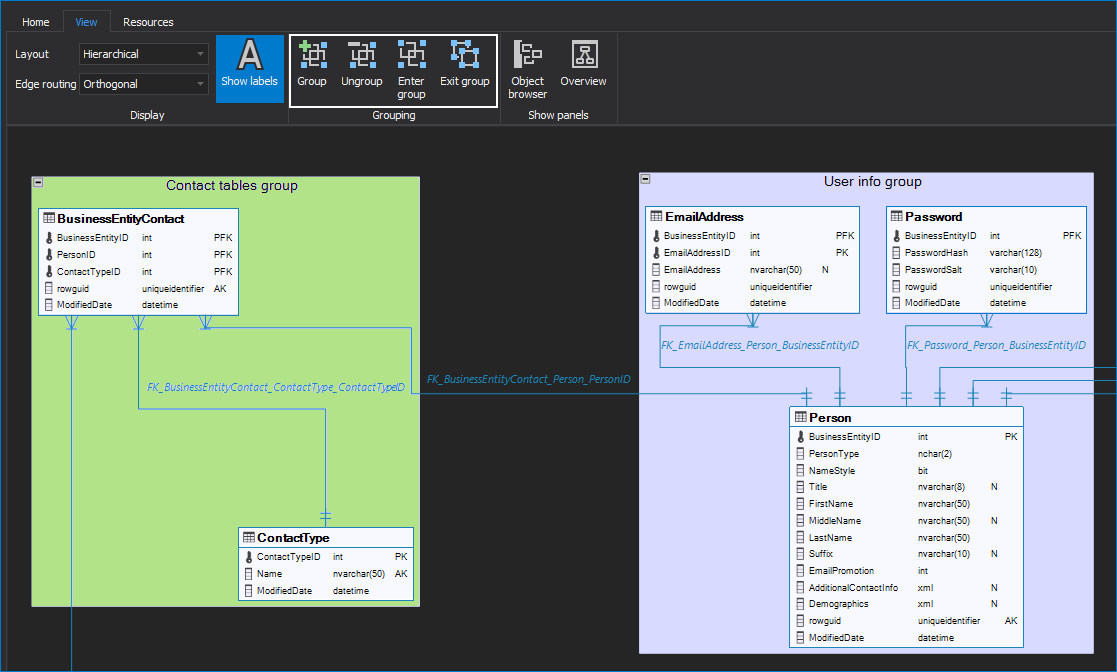 Zoom options panel
ApexSQL Model is also equipped with a zoom options panel that allows you to zoom data model diagrams in, out and to a specified value and also to fit to window and fit to selection by using the buttons in the bottom right corner of the application window.
Model history navigation
The model history navigation feature allows for browsing through the history of the created model. With this feature it's possible to revert or redo any changes done to the model using the Undo and Redo buttons.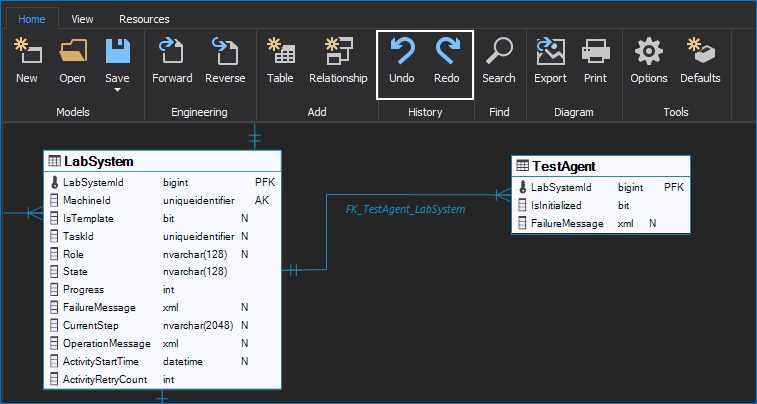 Export model
ApexSQL Model can be used to export data model diagrams into BMP, JPEG and PNG formats by clicking the Image button from the main ribbon bar.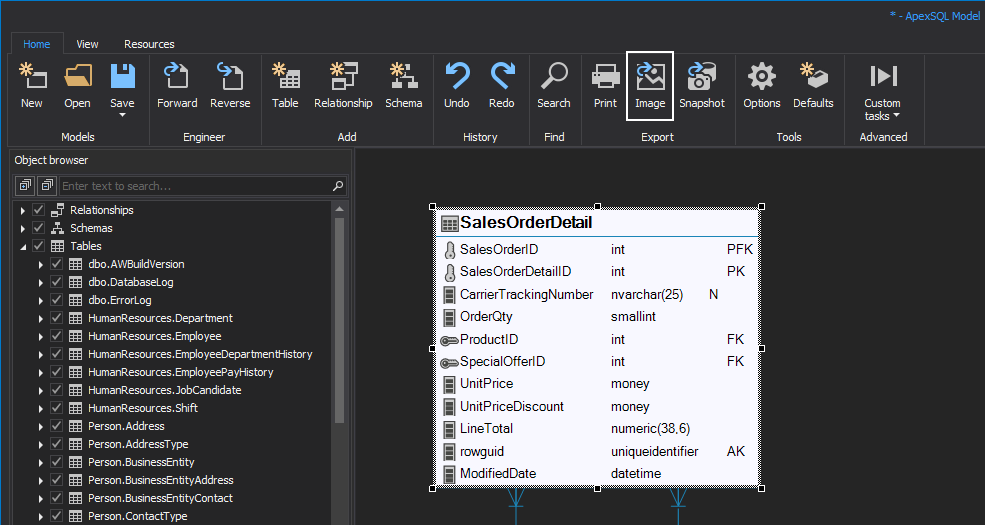 Print model
ApexSQL Model allows you to configure and customize print output with a variety options. To print a data model, an available printer needs to be selected in the Printer tab. Image scaling and other layout options can be found in the Layout tab:
Orientation, Margins and Size options can be found in the Page tab. Margins can be set up in inches or centimeters: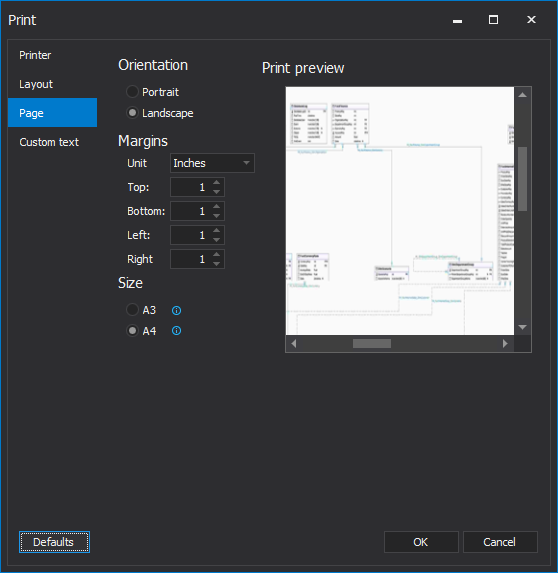 In the Custom text tab, date and time options along with image, header and footer and also watermark options can be set up: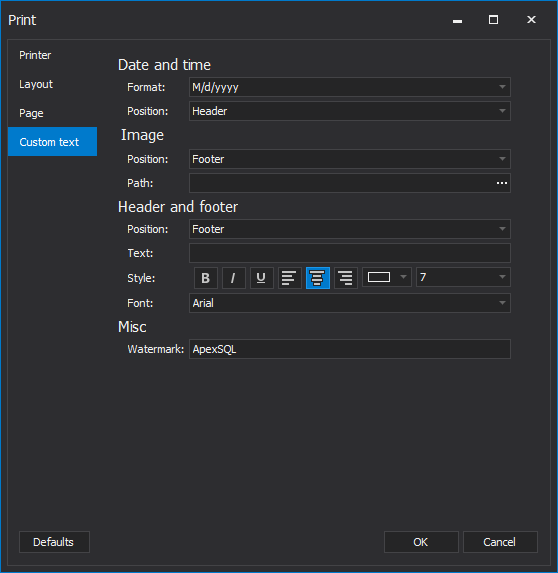 Autosave models
Another feature that is helpful is the Auto save option that automatically saves model files to the default output location within the previously set up time interval. This option is located in the General tab of the Options window.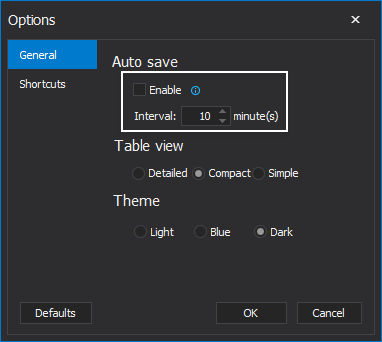 GUI themes
ApexSQL Model offers GUI themes that provide the new SSMS 17 look and feel. The theme settings can be accessed in the General tab of the Options window.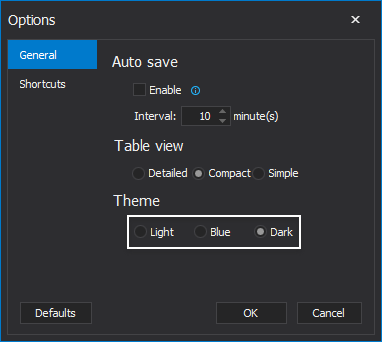 To keep informed of new features and upcoming product releases, please see What's next
January 17, 2018